A Day of Self Care at Spa Elizabeth
Treat yourself to a day of self-care at Spa Elizabeth. The spa, located in Seabrook, offers a beautiful view of the ocean during your visit. Owner Diana Wilson has been in the industry for almost two decades. Spa Elizabeth has been offering services to the Harbor since February 2014 and expanded to add a boutique in May of 2019. Some services offered are relaxation and healing massage techniques, body scrubs and facials. After your visit you are guaranteed to feel relaxed and rejuvenated.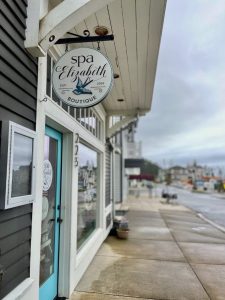 The Spa is elegantly designed to create the most luxurious experience on the Harbor. As soon as you open the door you are greeted with the most pleasant aromas, a list of organic teas and a breathtaking view of the Pacific. The waiting area is welcoming and comfortable with cloudlike carpet leading to the spa rooms and services. Have a seat and enjoy the view or try out some of the products that are used in signature packages and facials. Whether you are looking for a calming facial or a therapeutic massage, the spa has something for you.
"We are trained in all types of modalities that would be considered therapeutic massage techniques, and every experience is therapeutic," explains Diana. "A blend of the environment, oils, products, smells, heat therapies such as a neck wrap, stones or oils are all small details that bring in the deep relaxation. This environment also offers a slowdown, or escape."
Popular choices for massage are deep tissue with head and neck fusion. This is a great service for those of us who are looking down at our devices all day or stuck sitting at a desk. Sea and stone massage as well as the Seabrook signature are also popular among visitors.
Diana's favorite is the Spa Elizabeth Signature that was established when she first created the spa. This includes a foot soak with a custom aromatherapy blend followed by a full body Swedish relaxation massage. With this package, hot stones are smoothed along the back of the legs to deliver warmth deep into the muscles. It concludes with a warm oil and therapeutic serum scalp treatment massage.
Another favorite is the Signature Scrub, which includes a magnesium and Epsom salt foot soak, shea butter and Salts of the Earth Exfoliation, ending with a Spa Elizabeth Anti-Aging Facial.
Diana offers true healing, not only from experience, but from her knowledge of the body. Diana has received massages and chiropractic work most of her life, and she understands how much they can aid in healing. Initially Diana was interested in reflexology as a profession. She was surprised by the connection our feet have with the rest of our bodies. She knew she wanted to learn more about the human body and healing techniques.
After some time deciding the right path, she ultimately pursued massage therapy. "A big part of becoming a therapist was being able to empathize with acute and chronic injury,." she shares. Diana has had several injuries herself and can understand the need for relief.
After your spa package head downstairs to the boutique, you won't want to miss it. You will find products that were used during your service that can easily be added to your daily routine. If you're not sure what to look for, ask the knowledgeable staff. Some of Diana's favorite items are PURE & COCO, DANI naturals, OSEA, and Cottage Greenhouse lotions and bath oils. The boutique offers everything from the famously soft Barefoot Dreams collection, skin care products and jewelry. Buy yourself a gift to conclude your day of self-care or pick up a gift for a friend. Most products in the boutique are supporting other small businesses, handmade, organic and natural, so you can feel good about what you're purchasing.
To book your relaxing getaway at the beach, visit the Spa Elizabeth website for more information.